Location
Seoul, South Korea
---
Year
2018
---
Scale
Infrastructure
---
Services
Schematic design
---
Client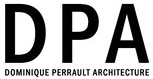 Seoul's Gangnam International Transit Center was conceived and designed by architect Dominique Perrault as a piece of land art, a minimalist gesture that creates an incredibly powerful new transportation hub right in the heart of the city.
Built along the two main roads that run through the Gangnam, Bongeunsaro and Tehrananro neighborhoods, LightWalk is a landscape project that connects the two roads together and serves as an urban landmark. This new intermodal hub of 167'000 m² entirely constructed underground will accommodate, in addition to a shopping center, a new train station with 4 lines, metro stations, a bus station and a conference center.
In the context of this project, GEOEG has performed the schematic design of an energy geostructure system to meet 100% of the thermal energy requirements of naturally and mechanically ventilated areas. The energy geostructure system designed by GEOEG comprises approximately 41'000 m² of energy slabs, 18'000 m² of energy walls and 1'382 m of energy piles to make this project autonomous from the perspective of its energy supply.
The considered system involves a coupled operation of energy geostructures with
a thermal labyrinth.
years of return of investment
MW of supplied renewable energy
ton/year of saved CO2 emissions